"Dirty Dozen" List of Fruits & Vegetables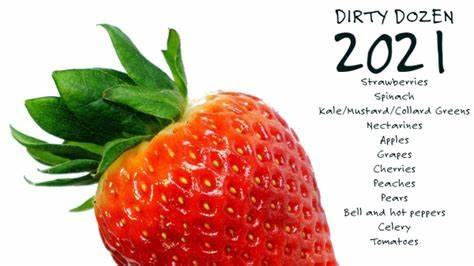 According to EWG, which publishes a "Dirty Dozen" list every year...here are the top 12 dirtiest fruits and vegetables for 2021 in order of dirtiest:
Strawberries again top the list
Spinach
Kale, Collard & Mustard Greens
Nectarines
Apples
Grapes
Cherries
Peaches
Pears
Bell & Hot Peppers
Celery
Tomatoes
NOTE: A small amount of sweet corn, papaya and summer squash sold in the United States is produced from genetically modified seeds. Buy organic varieties of these crops if you want to avoid genetically modified produce.
Again, Grandma never had to tell us which fruits and veggies to NOT eat. That's something we have to tell our kids and grandkids and ourselves in this day and age.
Protect your health with Alive Again, our super-fruit drink, which has these ingredients:
CHOKEBERRY
BLUEBERRY
POMEGRANATE
NONI
CONCORD GRAPE
ACAI BERRY
MANGOSTEEN
BLACK CHERRY
GOGI BERRI
APPLE
PEAR
PLUS: Green Tea, Ginseng, Ginkgo Biloba, Resveratrol and Quercetin