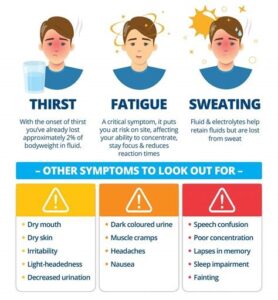 With the continued heat wave over most of our country, please be aware of the early signs of dehydration. Signsymptoms.com provided the easy-to-read chart above which shows increasing symptoms of dehydration.
According to the Baylor College of Medicine, if you are thirsty, you are already dehydrated. Drink plenty of water throughout the day.
For a change of pace, try two tablespoons of Alive Again in a frosty mug with 8 ounces of cold mineral water such as Pellegrino. It's a delicious and refreshing way to beat the heat while getting your nutrients and a boost of energy.