2018 'Dirty Dozen' List of Fruits & Vegetables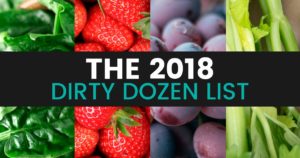 It's summer time and we are all eating from the delicious array of fruits and vegetables available this time of year.
So, to keep us updated on the 'Dirty Dozen' list of fruits and vegetables that are the most contaminated, the nonprofit, nonpartisan environmental organization, Environmental Working Group, found that strawberries top the list with "the most pesticide residues for the third year in a row. One-third of all strawberry samples contain 10 or more pesticides; one berry contained 22 pesticide residues alone."
The Dirty Dozen list of the most contaminated fruits and vegetables includes:
1.Strawberries
2.Spinach
3.Nectarines
4.Apples
5.Grapes
6.Peaches
7.Cherries
8.Pears
9.Tomatoes
10.Celery
11.Potatoes
12.Sweet Bell Peppers
As Prevention Magazine online reports:
"Research links pesticide ingestion to risks to brain development during pregnancy and early childhood. A 2012 report from the American Academy of Pediatrics recommends limiting pesticides in children as much as possible…if you want to reduce pesticides in your diet, a simple shift in your shopping habits can help. Purchasing organic fruits and veggies is one of the best safeguards against pesticides, but another simple step is to learn and purchase produce has been found to contain the least pesticide residues."
So, the list of the "Clean Fifteen" produce includes:
1.Avocados
2.Sweet corn
3.Pineapples
4.Cabbages
5.Onions
6.Sweet peas (frozen)
7.Papayas
8.Asparagus
9.Mangoes
10.Eggplants
11.Honeydew melons
12.Kiwis
13.Cantaloupes
14.Cauliflower
15.Broccoli
Dr. Axe online has more information on this subject as well.
To ensure a strong immune system, be sure to include Aloe Apex in your daily health regimen.