The Best Type of Bread to Digest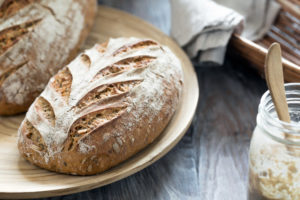 According to The Nutrition Watchdog there is one type of bread that stands out from all the rest as to easier to digest, better for blood sugar control and more…
3 Reasons THIS Kind of Bread is Healthier to Eat
"Bread gets a lot of bashing these days, especially in light of 'low-carb' or Paleo diets. And there is good reason for it—bread (even whole grain bread) contains gluten, and can contribute to inflammation in the body–especially the gut, and even the healthier 'whole grain' versions of bread can increase the blood sugar levels dramatically… In fact, some blood sugar tests have shown that 2 slices of "whole wheat" bread can spike blood sugar as high as an equivalent amount of calories of pure table sugar.
Gluten free bread can often be just as bad or worse, with its highly refined grains and starches. However, one particular type of bread is far healthier and easier to digest and it's been around for centuries…
Sourdough bread is made in an entirely different way than commercially prepared breads and gluten free breads. Sourdough is a fermented bread, and the fermentation process makes it easier to digest and less likely to spike blood sugar levels, while also making the gluten in sourdough bread easier to digest than standard white, wheat, or multigrain breads.
Sourdough bread is actually one of the oldest ways of baking bread, and is thought to to have been prepared and baked in ancient Egypt around 1500 BC. Sourdough bread is still hugely popular in the Mediterranean and Middle East, as well as the San Francisco area of the United States. (Mike's note: While on a trip in France last year, we noticed that almost every restaurant served sourdough bread instead of regular non-fermented bread, and with grass-fed butter… once again, the French do it right in terms of quality of food and nutrition)
Most breads use baker's yeast to help the dough rise, but traditional sourdough recipes use 'wild yeast' and lactic acid bacteria. Lactic acid bacteria are the same type of beneficial bacteria found in fermented foods such as yogurt, pickles, kombucha, sauerkraut and kimchi.
Sourdough uses a 'starter' made of fermented wild yeast, lactic acid bacteria, flour and water. The sourdough starter begins to ferment the sugars in the dough, changing the molecular structure, and breaking down its components, creating lactic acid and lactobacilli."
Apex Health understands the importance of gut health for overall health, especially as it applies to digestion. That is why we developed Aloe Apex with the finest Aloe Vera available, with our patented technology that delivers all the benefits of the plant to the consumer.